Video Archives: Arizona Iceberg Lettuce: Yum!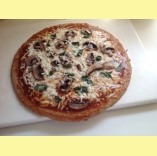 Featured Recipe
Cheesy Mushroom Pizza
Heat oven to °375 Take your whole wheat Pizza Crust Add the Pizza sauce to your crust Sprinkle your shredded cheese evenly over the crust Slice your basil into strips or pieces Sprinkle your basil over the cheese evenly Take your mushrooms and according to your preference Place Pizza in oven bake for 15-20 minutes or until crust is golden brown and the cheese in the center of your pizza is evenly melted. Let cool for 10-15 min.
videos